Part 6... the saga continues...
51) I love candles. I love smelly candles. They make me happy.
52) I own way too many clothes (and I realize this). and right now...that's not a good thing. Many of my shirts don't fit me, because of the...umm... feeding of the child... and things are larger... It makes me sad. I want to wear some of my favorite shirts, and can't.
53) I like to watch The Biggest Loser while eating...is that a problem?
54) My favorite colors are teal and darker reds
55) My current kitchen is red. I love it. I wonder if I'll want to paint the next one that way?
56) I don't like lace. I just don't. Nothing lacy for me, please.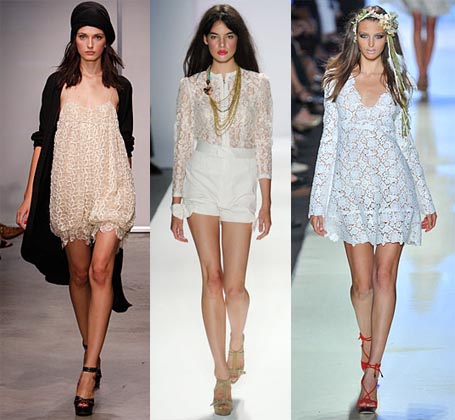 Oh, this is "in"??? I don't care. You look like you belong on a grandma's table...
57) Lists make me happy. I feel like I've accomplished something, when I've finished a list for the day.
* get up- check
* brush teeth- check
* Go crazy, due to children- double CHECK
58) I'm OCD. No, really... I am. Sometimes I get up three or four times, at night, just to check the temperature in the house, before going to bed. I have to clean my house in the certain order, on specific days.... If I break routine, I kinda lose it. It's ok, I'm dealing with it. But I'm sure it drives the husband crazy.
59) I'm glad he puts up with me. He loves me, even though I'm a nut job. See
yesterday's post
for further information on that!
60) I LOVE to go to
TARGET
! LOVEEEE IT!! I could get lost in that store. I love their clearance. It makes my heart happy. :)
Well, that's 6... 4 more to go! :)