Oh yes, that's right. There's a party going on... no not just because it's my Birthday today, or because we are snowed in (20 inches of snow!), but because
5 minutes for mom
is hosting the ultimate Blog Party!!! Meet new people, join the fun, you know you wannaaa.....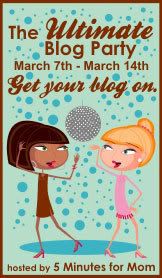 Get your balloons, cake, and PRESENTS (yes, every party has to have presents!), and head over to 5 Minutes For Mom and join the party!!
OH, and if you're a new reader to my bloggy haven-- WELCOME to the madhouse! :) Read a few of my posts and you'll know all about me. I have two boys (Adam 2 and Matthew 8 Months) and I've been married to my High School Sweetheart for almost 7 years. OH... and I turned 25 today. Yay me. :) Thanks for stopping!